Sometimes even a 10-inch screen is just too small. Fortunately, it's easy enough to connect your iPhone or iPad to any recent TV for a bigger-screen media experience. Here's our guide, from the simplest to the most complex solutions.
Connect With a AV Adapter and HDMI Cable
By far, the simplest way to connect your iPhone or iPad to your TV is to use a cable like Apple's Digital AV Adapter, which connects your Apple device to your TV's HDMI port. You'll also need a standard HDMI cable—any one will do, so just buy the least expensive one you can find.
Apple's or a Generic Digital AV Adapter There are two models of the Digital AV Adapter, so make sure you choose the right version. The £59 one is for current iOS devices with a Lightning port (pictured); the other (£9) is for older iOS devices with 30-pin ports. A generic 8-pin adapter costs about £15 and 30pin adapter costs about £12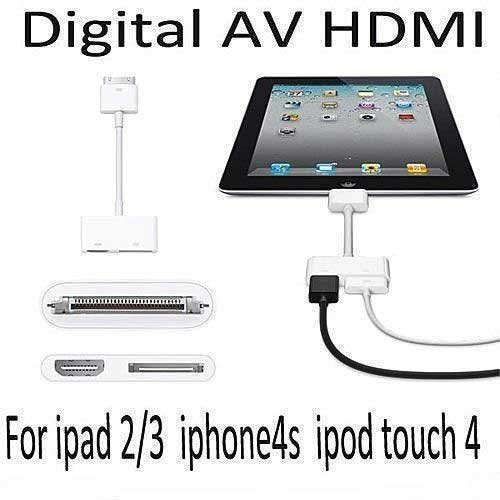 Connect your iPhone or iPad and TV with the cable, and switch the TV's input to the port with the cable. Also plug the USB end of your Lightning cable into the adapter and plug the other end into a power outlet—it needs juice to play. Your TV will become a duplicate of the connected device's screen in 1080p HD. Now you can play your iTunes videos, Netflix movies, or whatever else you want on your TV
READ NEXT: The Best Desktop Computers of 2018
There are many third-party Lightning-to-HDMI cables for sale for around $15 to $25—and they include the HDMI plug into the TV. Just search Amazon for "lightning to HDMI" for a sampling. They come from companies you've never heard of with names like Mostop, Ayshone, Wesoo, Innens, Tessin, and RayCue, to name a few; this Hiotech Lightning to HDMI Cable is $15.99. These cables are not only a better value, they're easier to connect than Apple's solution.
One big caveat with those third-party cables, though: if you're looking to watch streaming services like Netflix, Amazon Prime Video, Hulu, HBO, or on-demand video from providers like Comcast Xfinity and DirecTV, most of these cables won't work. They lack High-bandwidth Digital Content Protection (HDCP), which prevents pirates from capturing high-def digital content for their own use. HBO Now has a nice primer on how it supports HDCP.
By far, the simplest way to connect your iPhone or iPad to your TV is to use Apple's Digital AV Adapter, which is a cable that plugs your Apple device to your TV's HDMI port. You'll also need a standard HDMI cable— any one will do:
Buy Apple Lightning Digital AV Adapter – £48.69
Buy 1.8M Rankie HDMI Cable – £2.99
Connect With Apple TV
Maybe you don't want a pesky wire between your iPhone and your TV. The easiest way to connect wirelessly is with Apple's own media hub/extender, Apple TV.
Once your Apple TV is set up, make sure it's connected to the same home Wi-Fi network as your iPhone or iPad. Swipe up from the bottom of your iPhone or iPad's screen to launch Control Center, tap AirPlay Mirroring, then select your Apple TV. Your Apple TV will start streaming a mirror of whatever's on your iDevice's screen. (You can also just use AirPlay to stream media from the iPhone to the TV, such as music or videos you've purchased on iTunes.)
AirplayMirroring
One warning: In very crowded Wi-Fi environments, AirPlay video might break up or stutter. In that case, use a cable. But it should be fine for most homes.
Connect With a DLNA App
If you have an internet-enabled TV, it probably supports DLNA, a generic form of media streaming available on many different manufacturers' products. With the right app, you can stream unprotected music and video file—in other words, files you have stored in iTunes and copied to your iPhone; it won't work with music and videos purchased from the iTunes Store due to Digital Rights Management (DRM) limitations.
However, you're not limited to streaming media only from the iPhone—the right app will look at media stored on other devices, like your PC, and act as a go-between to set up streaming from PC to TV, for example. Devices you can stream to include not only TVs but also game consoles and PCs. You don't have to convert any videos or install special codecs to make it work.
MCPlayer HD from Arkuda Digital is available for $4.99; a free lite version limits you to playing five videos per folder.
If your TV doesn't show up on the list, you may need to activate its DLNA function. Go to the TV's internet connection menu and look for an option to stream from a PC or home server. That's DLNA.
Sunshine is another option—install a version of the app on all devices so you can easily share non-DRM media between them; it will also help you cast media to the TV (but doesn't do mirroring, so there is no watching streaming video apps
Connect With an Android TV Stick or Chromecast
There are more arcane, hackerish ways to connect your iPhone or iPad to your TV. For instance, you can get an Android-powered TV stick, plug it into the back of your TV, install the Kodi media server app (once known as XBMC), and the stick will be able to play unprotected music and video from the built-in apps on your device by using the AirPlay button. It won't support screen mirroring or protected video streaming.
In my experience, though, this approach is typically a nightmare. The sticks are slow, buggy, and unreliable, and Kodi support tends to break. Here's a hint about what a pain they are: one review includes the phrase, "Once we downloaded an updated version of the device's official firmware from geekbuying.com and flashed the MK808B."
While this is definitely a way to save money over an Apple TV (and the stick can run any Android app on your TV, which is cool), what's your time worth? Probably more than the $50 difference.
Google Cast IconA better bet is the Google Chromecast or Chromecast Ultra. Each is a simple, inexpensive dongle that easily plugs into a TV's HDMI port—the Ultra supports 4K and Ethernet connections. Your iPhone screen can't be mirrored on the TV screen over a Chromecast, but for video streaming, there is the option to use your iPhone to navigate the streaming media apps that Chromecast supports. Your iPhone becomes a remote control for Netflix, Hulu, YouTube and others (but not Apple or Amazon—Chromecast doesn't have them).
To be honest, you can do this within many apps on iPhone to almost any DLNA device that has the same apps installed—I do it with my Samsung SmartTV and Xbox One all the time. Just look for the Cast icon (above) in each app to get started.